After you are enrolled, you will receive an initial order of Green Dot Prepaid Visa® Cards and Cashier's Checks (if applicable) -- free of charge -- along with a free marketing kits. Kits are available to tax professionals participating in the following programs:
Standard Refund Transfer program
Green Dot Prepaid Visa Card
Fast Cash Advance
You will receive an email confirmation when your order is fulfilled including a tracking number that you can use to track your shipment.
How to order additional supplies and materials
After logging onto our website, select the Supplies link in the menu to view the supplies page.

Make sure to note the email address displayed on the screen - you have to use this email address to create your account.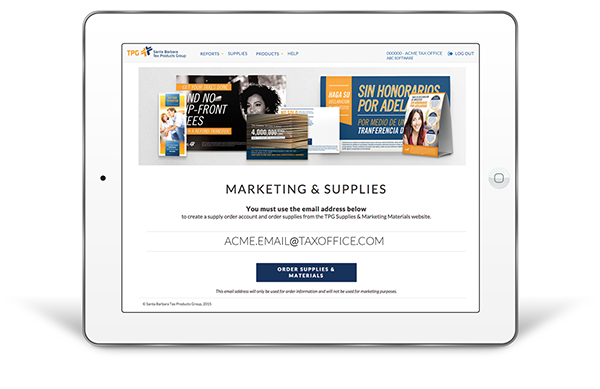 Click the Order Supplies & Materials button on the Supplies page to setup your supply order account.

Setting up your supply order account is easy! Provide a few pieces of information to create your account and start ordering supplies!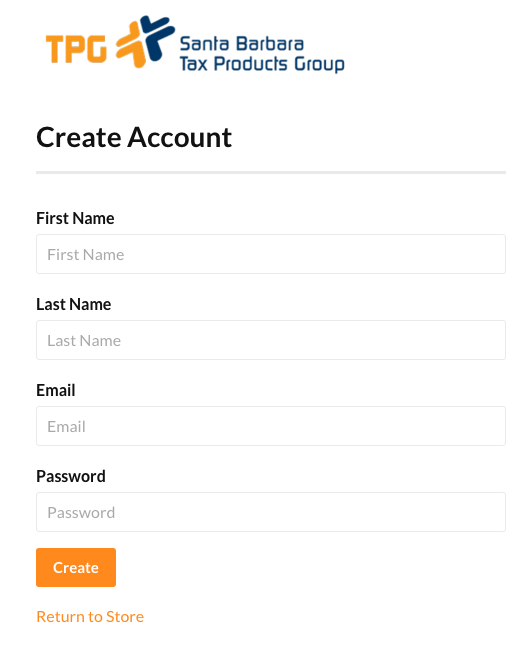 NOTE: You must use the email address displayed on the Supplies page to place orders. Visit the My Profile page to change the email address on file, and then visit the Supplies page to create a supply order account with the updated email address.
Some items listed below may not be available to tax professionals enrolled in a discount program. Logon to the supplies site to view items that are available to you.
Marketing Materials - Order additional marketing materials at any time.
Cashier's Checks and Green Dot Prepaid Visa Cards - Additional checks and cards can be ordered after tax season begins by logging onto our website and visiting the Supplies page.
*Available while supplies last to tax professionals opted in to our Standard Refund Transfer program.