Want to give employees access to your TPG account? With the "Manage Users" feature you can give employees access to as much or as little information as they need. This feature allows your employees to logon to the TPG website and view information for your office and you control the employee's access level.

How to add an employee
Logon to the TPG website, select Account and then select Manage users.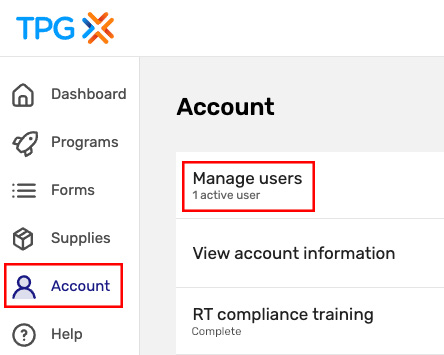 On the next screen you will see three tabs. These tabs will be populated as you add and manage user account to your TPG account.
Active - users that were added to your account and have successfully created a user profile
Pending - users that have been added to your account, but have not created a user profile successfully
Inactive - inactivated users who no longer have access to your account. You may reactivate these users at any time.
To continue select Add user to add an employee to your account.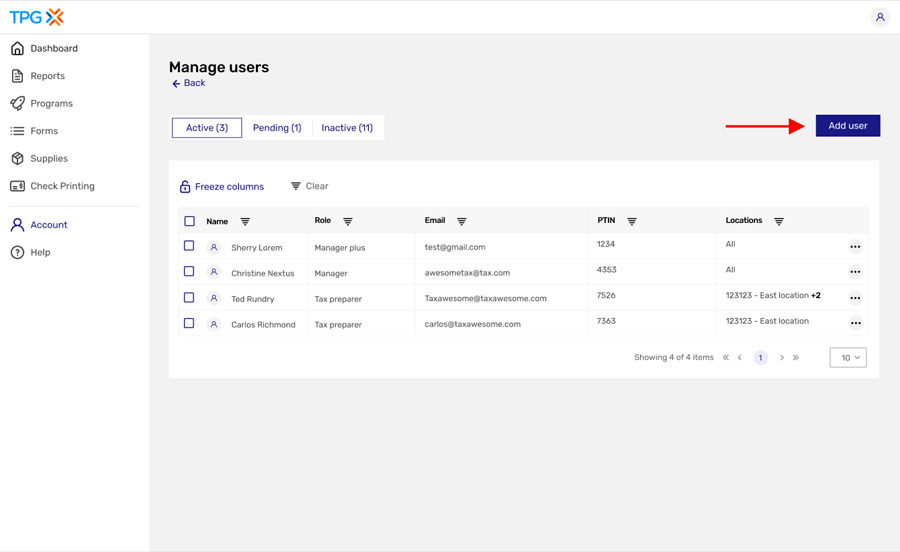 On the following screen, provide the information for the individual that you are granting access to your TPG account (PTIN is not a required field). You will be asked to select a role. The role determines the access level that your employee or business associate will have. Scroll down to see what information is available to each role.
The new Business partner role allows you to give a user access to everything available to you as a business owner
Enter a PTIN for a user to restrict reporting to taxpayers linked with your user's PTIN. This will allow you to prevent this user from seeing information related to other tax preparers. Note: The Tax Preparer role requires a PTIN in order to access reports
If you own multiple offices you will see those locations listed here. Grant user access to your TPG account for 1 or more offices by selecting office location(s).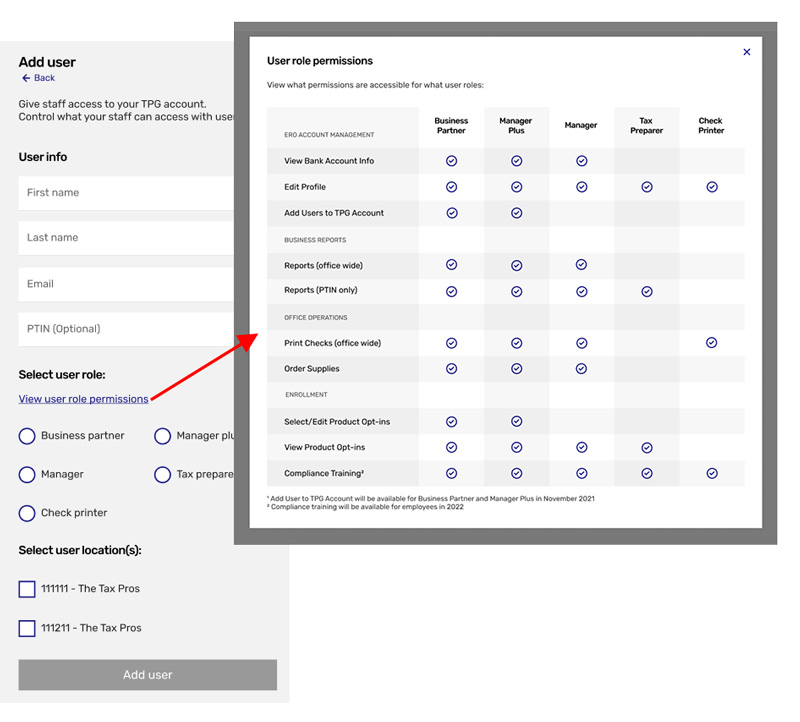 How to edit, inactivate or delete an employee
Take actions for a user by clicking the 3 dot icon for a specific user. You may also select the check box for one user and the Actions button will appear at the bottom right side of the page. Note: selecting multiple checkboxes will only allow you to delete or resend the email invitation link to multiple users.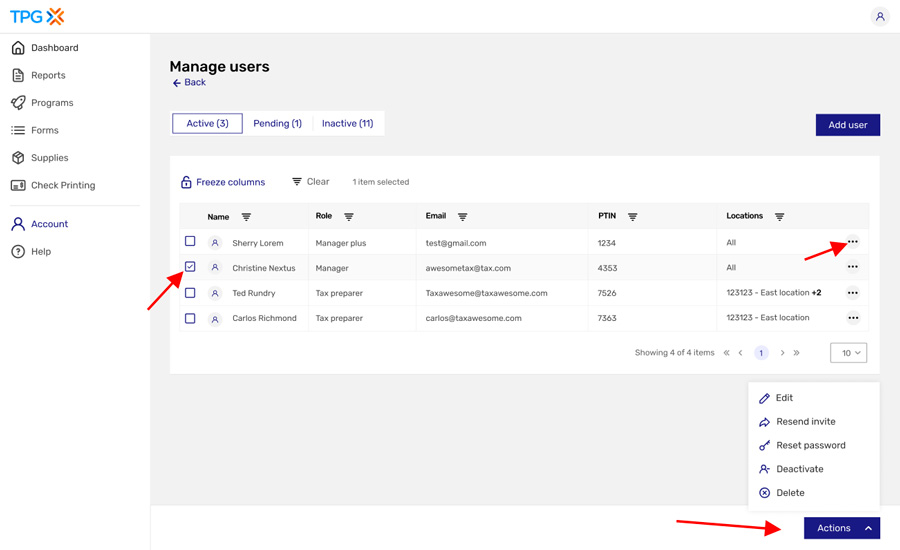 Edit - select Edit to edit information for a user in your account. Edit their user name, role, email address or PTIN
Reset password - use the Reset password feature to trigger a reset password email to be sent to a specific user
Deactivate - if you have seasonal employees that may return next tax season, restrict access to your TPG account by deactivating a user. You may reactivate users at any time.
Delete - permanently delete a user's account using the Delete feature.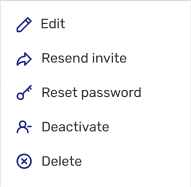 What if my employee didn't receive the email?
Invited users have 48 hours to accept the invitation to join your TPG account. If a pending user deleted the invitation, or didn't accept the invitation before the link expired, click Resend invite to resend the email invitation.
Employee user access across multiple years
The TPG website now supports multiple tax seasons. This means employee users that were given access to your TPG account in a previous tax season will continue to have access to your TPG account until they are deactivated or deleted from your account.
Adding a new employee user to your TPG account, gives that user access to historic data for as long as you have worked with TPG (starting with 2022). For example, if you used TPG in 2022 and 2023 and added a new user in 2023, that user would have access to 2022 and 2023 information. User access is restricted according to the user role you have selected.
New business owner inherits existing employee users
When a tax professional purchases a business from another tax professional that uses TPG, the employee users that were added to the original business owner's TPG account will continue to have access to the TPG account until the new business owner deactivates or deletes the user(s) from the account.